Deck your plates with yummy cookies!  That's right, its that time of the year again when you are faced with mountains of sugary holiday goodies.  Here are a few recipes you don't have to feel guilty about feeding your friends and your kids.
Sandbakelser (Raspberry Sand Tarts)
3/4 c almonds ground into a meal (finely ground)
1/2 c sugar
1 cup butter, softened
1/2 tsp almond extract
1 large egg
2 1/2 cups flour
1/2 cup raspberry jam (for filling.)
Directions: Cream butter and sugar until fluffy. Beat in egg and extract. Stir in almond meal, then flour.
Tart Pans: fill tart pan with 1 1/2 tsp dough, then 1/4 tsp raspberry filling. Bake at 350 for 16-18 mins.
Cookie Sheets: Form dough balls with 1 1/2 tsp dough set 2 inches apart. Using the tip of finger press an indentation on top of dough ball and fill with 1/4 tsp raspberry jam. Bake at 350 for 16-18 minutes. Cool 10 minutes on pans before transferring to brown paper or cooling racks. Do not grease cookie sheet.
Cooks Note: I've never made these with the almond meal or using tart pans. Thus mine don't come out perfectly round and tart-like, they spread when baked on a cookie sheet.
Double Ginger Snaps (based on Williams Sonoma recipe in "cookies" book)
2 ½ cups all purpose flour
1 ½ tsp ground ginger
1 tsp baking soda
½ tsp ground cinnamon
¼ tsp cloves, ground fresh from whole cloves
¼ tsp salt
2/3 cup virgin coconut oil
3/4 cup firmly packed light brown sugar
1/3 cup molasses
1 large whole egg, lightly beaten
¾ cup chopped crystallized ginger (note: I used 1 1/4 cup in the doubling and it was fine…)
Directions: Pre-heat oven to 325. Sift together dry ingredients and spices. Mix oils, sugar, molasses until combined. Beat in the egg. (I had to get my kitchen aid out to mix the oils, sugar and molasses, then the egg. Wooden spoon wasn't cutting it). Add the crystallized ginger and stir in. Form one inch balls and place on lightly greased (or parchment paper covered) cookie sheet. Bake for 15-18 minutes until set and crackled on top. Let stand for a few minutes before transferring them to rack or brown paper bag to cool
Pumpkin Chocolate Chip Cookies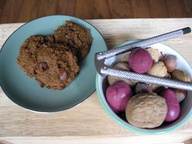 1 cup canned pumpkin
1 large egg
1 scant cup granulated sugar
6 tablespoons coconut oil
1 teaspoon vanilla
1 teaspoon cinnamon
1/2 teaspoon salt
1/2 teaspoon baking soda
1 1/2 teaspoons double-acting baking powder
1 3/4 cups all purpose flour or white whole wheat flour
1/4 cup ground flax seed
1 cup semi-sweet chocolate chips
Directions: Mix first nine ingredients in a bowl until spices, sugar, soda, powder are incorporated. Add the flour just until mixed and stir in chocolate chips. Drop a heaping tablespoon of batter on to parchment lined or greased cookie sheet 2 inches apart. Cookies won't spread much. The texture of the cookie is cake-like. Bake at 375 for 13-15 minutes. Cool cookies on cookie rack (or flattened paper grocery sacks).
Nutmeg Logs (makes 3-4 dozen)
Dough:
1 C. butter (softened)
¾ cup sugar
3 C. Flour
1 egg
2 tsp vanilla
2 tsp rum extract
1 tsp. ground nutmeg.
Directions: Cream butter, egg, nutmeg and extracts. Then add flour and slowly mix until dry ingredients are incorporated with butter mixture. Let dough chill 1 hour or overnight.
Icing:
3 TBS unsalted butter, softened
½ tsp vanilla
1 tsp rum extract
1/2 cup powered sugar sifted, + 2 more cups powdered sugar
2-3 TBS milk
Directions:Cream butter, vanilla and ½ cup sifted powdered sugar. Add 1 cup sugar and 1 TBS milk and whip. Add other cup sugar and 1 TBS milk and whip. If it's too thick add more milk. You want a thick icing you can make little peaks on.
Roll 1/2 inch balls into log shape, place on cookies sheet and flatten top with the palm of your hand. These spread a litttle, but don't really rise. Shape dough logs smaller than you want the cookies. Bake cookies for 12-15 minutes on an ungreased cookie sheet at 350?. Let cook on rack or brown paper sack. Cool cookies thoroughly then ice, making peaks with your spatula/knife. Sprinkle with ground nutmeg. Let icing harden before storing. Store in airtight container with waxed paper between layers.
Peppermint Shortbread (makes 2 dozen)
Dough:
1 c. softened butter (salted)
½ c powdered sugar
1 tsp vanilla
2 ½ cup flour
Directions: Cream butter, sugar and vanilla until smooth. Add flour and mix on low until incorporated. Chill for one hour (or overnight). Roll cookies into 1/2 inch balls and place on cookie sheet. Flatten top with palm of your hand. These cookies don't really spread or rise. Bake at 350? for 12-15 minutes. Don't over bake. They shouldn't be more than light brown when you take them out of the oven. Let cool on sheet for 2 minutes then place on rack, or paper sack to cool.
Icing:
1 ½ c powdered sugar, sifted
A few TBS of water.
Directions: Put powdered sugar in blender and add one TBS of water at a time, mixing thoroughly each time. Keep adding water until glaze is the right consistency. You want it psugarretty thick or the peppermints will ooze off over the edge of cookies. If it's too thin, no worries, just add more powdered sugar until desired consistency.
Unwrap candy canes, star brights, or other peppermint hard candies and place in a double zip lock back. You need about one package per recipe. Bash them with heavy kitchen utensil (I use a parmesan cheese grater, a meat tenderizer would be ideal). Make the candy pieces very small, close to a dust, it's too hard to eat big chunks on top of the cookies. If you live in a humid climate, don't crush the candy too far in advance, it gets too clumpy to decorate. Spread crushed peppermint in a wide bowl.
Let cookies cool thoroughly before icing. Spread a little icing on top. The icing is just a glue. Turn cookie over and press into the crushed candy. Let cookies dry very well on wax paper or paper bag before storing in airtight container. These cookies preserve pretty well. This is a small recipe, so if you're gifting any or entertaining with them, you might want to double the recipe.
Coconut Cookies
1 cup coconut flour
3/4 cup coconut oil
1 cup honey
6 eggs
1/2 tsp vanilla
1 1/2 cups shredded coconut
Directions:
Pre-heat oven to 300 . Combine oil, honey, eggs, and vanilla. Add shredded coconut and coconut flour. Line a cookie sheet with parchment paper. Make golf ball size balls and then flatten with hands. I wet my hands before forming the cookies to keep the batter from sticking. The dough will not spread out so however flat you make them is how they will turn out. Bake for 20-30 mins or until lightly browned.